Deer Turkey Waterfowl Hunting
100's of Acres of private and public hunting land available
Located on the south side of Birdsong Creek, 1.5 miles up our deep buoyed channel, entering from the scenic Tennessee River. The BIRDSONG sign is located on the island at mile marker 103.5 TRM, only 3 miles south of the New Johnsonville bridge and 13 miles north of the I-40 bridge.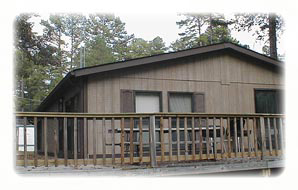 Spacious retreat perfect for large groups, family reunions, corporate retreats or any other occasion that brings family, friends or co-workers together for a relaxing visit on Kentucky Lake. Unit #4 features 5 BR, 3 baths and Unit #5 features 4 BR and 2 baths. Rent individually or as a suite to accommodate up to 25 persons. Adjoining decks create a superior situation for group "headquarters" with full kitchen accommodations – complete with dishwasher, microwave, coffee pot, pots, pans, and dinnerware. Over-sized living area with satellite television, VCR/DVD; central heat and air; large wrap-around deck with picnic tables and commercial-sized grill. We feature a total of 14 rental cottages/manufactured homes scattered throughout the resort – all full-housekeeping – each unique in its arrangements and amenities. Some feature fireplaces, Jacuzzi tubs, private phone lines and satellite television. All have television, VCR and/or DVD, fully-equipped kitchens with pots, pans, linens, microwave, coffee pot; some feature decks, some sport patios – but all have picnic tables and grills. Many are "just a couple of doors down" and positioned nicely for combination rental situations. All are within a "city block's" walking distance of each other, the swimming pool, open-air pavilion, children's playground, community center, and marina area.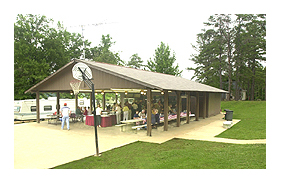 The open-air 40′ X 80′ pavilion can accommodate sit-down meetings or dinner for 500 people. The amenities include the adjoining 25′ X 45′ swimming pool, kitchen/snack bar, wide concrete driveway, wheel chair accessible rest rooms with showers. The pavilion is perfect for picnics or multi-use recreational activities.
MARINA STORE FACILITIES
* Oil and 92 Octane Gasoline * Nautical Gifts and Souvenirs * Birdsong and Pearl Of Tour Apparel * Johnson and Mercury Quicksilver Oil * Minnows, Worms, Livers and Crickets * 55′ x 55′ Lighted, Concrete Launching Ramp * Packaged Beer-To-Go * Ice * Snack Bar * Coffee * Fresh-Made Sandwiches * Sausage and Biscuits * Fishing Tackle and Licenses * Monitor Channel 16 Marine Radio * Complimentary Freezer Service * GPS, Topographical, and Nautical Maps and Charts * Fish Cleaning Station *