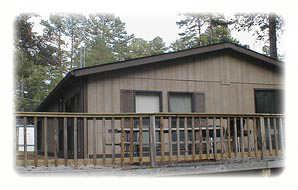 We Can Professionally Accommodate
* Groups From 2 To 500
* Family and Class Reunions
* Company Retreats
* Corporate Seminars
* Group Tours
* Bass Tournaments
* Registrations and Weigh-Ins
* Dances and Birthday Parties
* Homecomings
* Church Socials
* Catered Food Services Available
Located on the south side of Birdsong Creek, 1.5 miles up our deep buoyed channel, entering from the scenic Tennessee River. The BIRDSONG sign is located on the island at mile marker 103.5 TRM, only 3 miles south of the New Johnsonville bridge and 13 miles north of the I-40 bridge.
This spacious and comfortable retreat is perfect for large groups. "The Bluebird" cottage faces west and has a captivating view of the colorful daily sunset. This modern 4-bedroom suite has 8 twin beds and 2 full baths, a vaulted ceiling living room with fireplace, dining room, and kitchen complete with dishwasher and microwave oven. The sliding glass doors open onto a large wrap-around sun deck and is equipped with 2 picnic tables and grill. Cable TV, VCR and central heat and air, for your enjoyment. Sleeps up to 10 persons. 25 other cottages and mobile homes available for rental, each sleeping different numbers.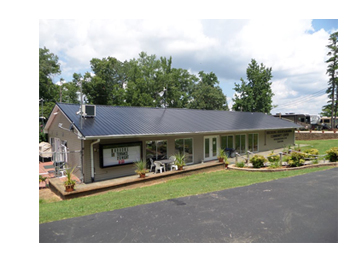 With more than 3,200 square feet, the Community Center, with a seating capacity of 120, offers the perfect space for tournaments, weddings, receptions, class and family reunions, corporate meetings, church retreats, company picnics, motor cycle rallies, car club meetings, organizational meetings, retired teachers association, birthday and swim parties, and so much more.
MARINA STORE FACILITIES
* Oil and 92 Octane Gasoline * Nautical Gifts and Souvenirs * Birdsong and Pearl Of Tour Apparel * Johnson and Mercury Quicksilver Oil * Minnows, Worms, Livers and Crickets * 55′ x 55′ Lighted, Concrete Launching Ramp * Packaged Beer-To-Go * Ice * Snack Bar * Coffee * Fresh-Made Sandwiches * Sausage and Biscuits * Fishing Tackle and Licenses * Monitor Channel 16 Marine Radio * Complimentary Freezer Service * GPS, Topographical, and Nautical Maps and Charts * Fish Cleaning Station *