"With every trip I collect new mementos, though few are collected in scrapbooks. And all who fish for bass across the land collect them too. They are the images from first light to last and from first fish to last. And we'd share them in a minute. Some recall particular triumphs, often preserved in snapshots and clippings, while others we tend to hide, at least until the time we're ready to laugh about them. Daybreaks, canebrakes, heartbreaks, muggy nights, and foggy mornings. A hundred things that worked, and a thousand more that should have. That's bass fishing." – George Kramer


Located on the south side of Birdsong Creek, 1.5 miles up our deep buoyed channel, entering from the scenic Tennessee River. The BIRDSONG sign is located on the island at mile marker 103.5 TRM, only 3 miles south of the New Johnsonville bridge and 13 miles north of the I-40 bridge.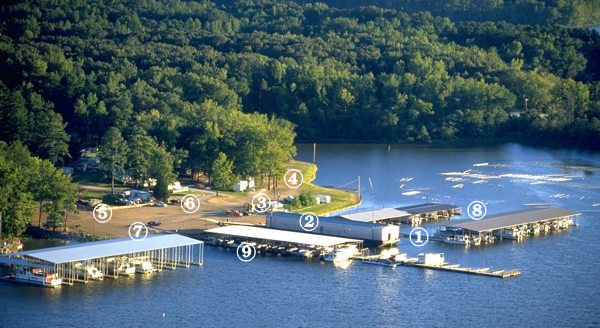 Our entire facility is perfectly suited for fishing tournaments up to 300 boats. In the photo above you can see: 1) our 200 foot walkway allows fishermen to tie off their boat while they weigh in; 2) our dockside store offers fresh, hot coffee, bait and snacks; 3) our covered weigh-in pavilion affords protection from the elements at weigh-in time and includes a large overhead readout, digital scale, and live-release tube; 4) large overflow free parking area; 5) security lighting at ramp for after-hours boat loading/unloading; 6) our main free parking area is graveled and extra large; 7) our concrete ramp is 55 feet wide and can accommodate up to three fishermen loading/unloading at one time; 8) we have 50 boat slips for those fishermen that want to come ahead of tournament time and dock their boats; 9) we also have large, oversized boat slips for houseboats and pontoons.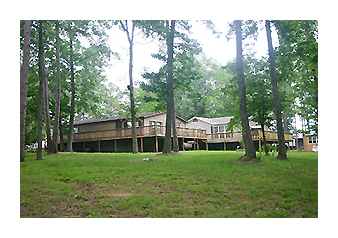 Spacious retreat perfect for large groups, family reunions, corporate retreats or any other occasion that brings family, friends or co-workers together for a relaxing visit on Kentucky Lake. Unit #4 features 5 BR, 3 baths and Unit #5 features 4 BR and 2 baths. Rent individually or as a suite to accommodate up to 25 persons. Adjoining decks create a superior situation for group "headquarters" with full kitchen accommodations – complete with dishwasher, microwave, coffee pot, pots, pans, and dinnerware. Over-sized living area with satellite television, VCR/DVD; central heat and air; large wrap-around deck with picnic tables and commercial-sized grill. We feature a total of 26 rental cottages and manufactured homes scattered throughout the resort – all full-housekeeping – each unique in its arrangements and amenities. Some feature fireplaces, Jacuzzi tubs, private phone lines and satellite television. All have television, VCR and/or DVD, fully-equipped kitchens with pots, pans, linens, microwave, coffee pot; some feature decks, some sport patios – but all have picnic tables and grills. Many are "just a couple of doors down" and positioned nicely for combination rental situations. All are within a "city block's" walking distance of each other, the community center, the swimming pool, children's playground, and marina area.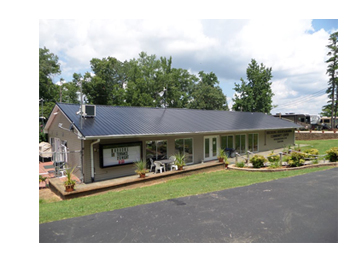 With more than 3,200 square feet, the Community Center, with a seating capacity of 120, offers the perfect space for tournaments, weddings, receptions, class and family reunions, corporate meetings, church retreats, company picnics, motor cycle rallies, car club meetings, organizational meetings, retired teachers association, birthday and swim parties, and so much more.
MARINA STORE FACILITIES
* Oil and 92 Octane Gasoline * Nautical Gifts and Souvenirs * Birdsong and Pearl Of Tour Apparel * Johnson and Mercury Quicksilver Oil * Minnows, Worms, Livers and Crickets * 55′ x 55′ Lighted, Concrete Launching Ramp * Packaged Beer-To-Go * Ice * Snack Bar * Coffee * Fresh-Made Sandwiches * Sausage and Biscuits * Fishing Tackle and Licenses * Monitor Channel 16 Marine Radio * Complimentary Freezer Service * GPS, Topographical, and Nautical Maps and Charts * Fish Cleaning Station *