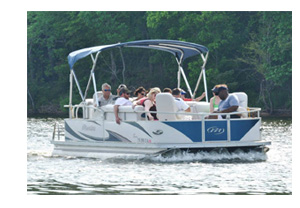 We offer pontoons (from 50 to 100 HP motors), Jon boats (14′ and 15′ paddle, anchor, 25 HP rope or electric start), 13′ canoes and kayaks at a variety of rates. And NOW AVAILABLE Bob's Special VIP boat – only 1 Available!
We also offer water ski, slalom skis, knee/wake boards, and tubes.
Give us a call at (731)584-7880 for more details.
Things you need to know…
When we rent boats they are full of gas/oil. We charge an upfront gas/oil charge of $70.00. When you return the boat, the dock attendant will fill the boat up with gas and oil. If the charges are more than the initial $70.00 paid, you will pay the difference to the dock attendant at time of boat check in. Please leave all life jackets and emergency equipment on the boat.
"8-hour days" are considered from 9:00 a.m. until 5:00 p.m. Additional hours may be prearranged with the marina attendant.
No reservations are taken for partial day rentals.
Life jackets are required for every passenger on the boat, and are provided within your rental agreement. Please advise the dock manager how many you will need, and ensure that you do not leave the dock without them.
Due to a change in TN boating laws, if you do not have a TWRA license you can not rent a boat unless you are over 34 years old. If you have a TWRA license and you are 21 years and older you can rent a boat. If you live out of state and are 21 years and older you can rent a boat but you must have an out of state driver's license when you rent a boat. A valid drivers license is required and will be held in exchange for boat keys. For further information concerning TN boating laws call 731-584-7880 and ask for Bob or Michelle
Click HERE for rental rates.