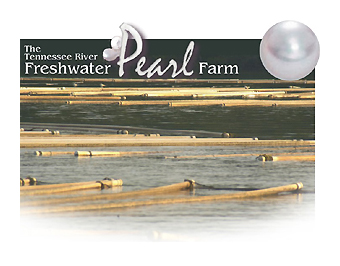 Birdsong Resort is the home of The Tennessee River Freshwater Pearl Farm – the only freshwater pearl culturing farm in America. Originally founded by John R. Latendressee (1925-2000) as one of eight pilot farm locations in 1979, all productivity measures eventually narrowed to the one location in Birdsong Creek. John and his wife Chessie, had attempted for many years to adapt the Japanese technique to our native waters, and species of mussels. 1984 was the first year a productive harvest was turned.
The Latendressee Family still operates the jewelry facet of the business in Nashville, TN, but in 2000, Bob Keast became the new owner of The Tennessee Freshwater Pearl Farm. Still growing pearls – the farm now offers tours to the public that are educational and entertaining. The tour teaches of pearl culturing, basic techniques, the musselling industry, and the history of pearls. Visit with the farm manager and look on as he "shucks" a mussel for you to see one of the cultured pearls. One of the local divers will stop by with his "catch of the day" and "shuck" some of the various mussels found in this Mississippi Basin area. Enjoy a catered lunch of BBQ ribs and chicken and pulled pork BBQ with all the fixin's in the open-air lakeside pavilion. For more information about "A Pearl of a Tour" CLICK HERE.
A mini-theatre and museum, and jewelry showroom are open to the public (free of charge) 7 days a week (except Thanksgiving, Christmas and New Year's day). A short film is available to watch, and historical items are on display for viewing. Pearls in a wide varieties are also available for sale in the showroom, ranging from $15.00 – $1,800.00, and made into the utmost fashion designs. Choose from earrings, bracelets, necklaces, tie tacs, slides, pendants, and more.