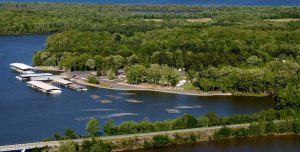 The information below would offer you a golden coverage opportunity to get a first hand view of West Tennessee's Outdoor Venue… Kentucky Lake.. and a few of the attractions it has to offer! Birdsong Resort, Marina and Campground has been situated on the shore of the world's largest man-made lake in America for over 50 years, bringing recreation to the tourism industry, and enjoyment to many, many attendees. The 2,300 mile shoreline body of water attracts over 300,000 visitors annually just at our location, placing us in the top twenty of Tennessee's Most Visited Attractions.
Birdsong is a 58-acre recreational complex that features a 140-slip marina; ships store; yacht club; new and used boat sales and service (factory-trained mechanic); pontoon and fishing boat rentals; 26 full housekeeping cottage and mobile homes for individual rentals; over 200 second-home resident lots; 120-seat community center; swimming pool; 500-seat open-air, lakeview pavilion with concrete floors, full kitchen facilities, and bathrooms (with hot showers); children's playground area; paved, pull-through RV sites with full hook ups; primitive tent camping area; and last – but not least – Continental North America's only freshwater pearl culturing operation… The Tennessee River Freshwater Pearl Museum, Farm, Tour and Jewelry Showroom.
The combination of all these, make Birdsong a ideal destination for the individual couple or large groups. Meeting facilities – indoors or outside – can accommodate corporate retreats, company picnics, family reunions, church socials, ball teams, and more! Our new suites can accommodate up to 25 persons with adjoining deck – and features (combined) 9 bedrooms and 5 baths. AV equipment and catering services available.
We would love the opportunity to be a feature in your publication… depicting the things to do and places to go – right here in West Tennessee.
I look forward to your call. I am in the office Monday through Friday from 9:00 – 5:00.
Bob Keast, Owner – Email Bob Keast