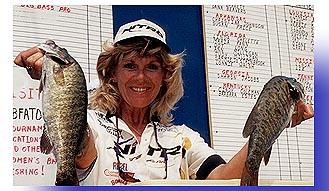 What's your favorite?
Crappie – Black Bass – Stripers
White Bass – Bluegill – Catfish
Kentucky Lake's Got 'Em All

THE SCENIC TENNESSEE RIVER
FISHING on BEAUTIFUL KENTUCKY LAKE
by Bob Keast, owner of Birdsong Resort, Marina & Lakeside RV Campground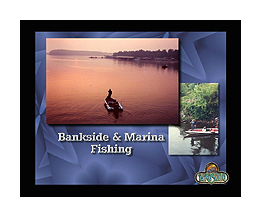 The Tennessee River lakes are home to more than 100 main species of fish, about 20 of which are caught regularly. These lakes, especially Kentucky Lake, are justifiably famous for crappie, bluegill, catfish, stripers, sauger, and largemouth, smallmouth, and spotted bass.
Artificial fish attractors – everything from old tires to great brush piles to stake beds – have been constructed in nearly all major creeks holding at least 10 feet of water. The attractors create a habitat for small fish; the small fish in turn lure the larger ones. A study conducted in Kentucky Lake by fishery biologists revealed that one acre of brush in a fish attractor averaged nearly 3,000 bluegill, 1,500 crappie, 580 catfish, and two largemouth bass.
These exceptional fishing areas are marked by Fish Attractor buoys – white with orange markings; enclosed in an orange square is a black fish and fish-hook. "TWRA" may be printed in black somewhere on the buoy; these are the initials of the Tennessee Wildlife Resources Agency.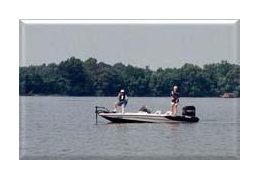 These lakes house fish of extraordinary size, including a blue cat from Fort Loundon Lake weighing in at 130 pounds, a 37-pound freshwater drum, a 7 1/2 pound sauger, and a 5-pound white bass from Pickwick Dam, and a striper, or rockfish, from Norris Lake that weighed just under 52 pounds.
Probably one of the most productive fishing areas in the region is a dam and powerhouse tailrace. Sauger are often caught here in the cold winter months, and during the rest of the year there is a fine area for catfish, stripers, all kinds of bass, and crappie.
Kentucky Lake hosts three excellent areas; the Pickwick Dam, the bend at the mouth of the Duck River at TRM 111.0 and at the mouth of the serene Birdsong Creek at TRM 103.5.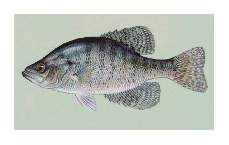 Crappie
Called the region's bread-and-butter fish, crappie fishing is at its best in February through June, peaking in April and May. Once the cold water begins to warm, crappie move from the main lake into shallow, warmer water to spawn. The best area in 3 to 10 feet of water, close to brush piles, stumps, submerged treetops, and fish attractors. Minnows, spinners, jigs or minnow-jig combos all work well. Worms dangled at different levels under overhanging shade trees and slow trolling or casting around bushy areas or weeds will usually bring up something. Kentucky Lake is known all over as the "home of the three pounders".
In summer the crappie move back into the main lake – look for them at deepwater drop-offs. Night fishing is at its best during the hot months; try minnows for bait.
In the fall, crappie return to the bays and brush piles and are again at their best in October and November, when once more they are best taken with minnows.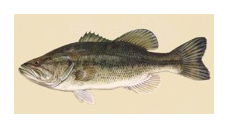 Black Bass (Largemouth)
Good in April, largemouth season peaks in May, then starts to taper off in June. The best areas are in cover on the flats or near stumps and brush piles near deepwater drop-offs. Crankbaits, buzzbaits, jigs, or minnow-jig combos work well at this time of year. Kentucky Lake near Camden, Tennessee is a tournament fisherman's haven, during any given weekend, an open buddy bass tournament is generally held in this area.
During the heat of summer bass usually seek cooler temperatures and are often found in deep water along steep banks and ledges. Casting and slow trolling with both surface and underwater lures often are productive, especially at night. Plastic worms worked slowly along the bottom are effective, too. By fall black bass are once more at their best, peaking in October. Try brush piles, stump fields, or gravelly bars. Minnows seem to be the best bait, though we have had good luck with both top water and underwater lures where the water is cool.
Tennessee bass fishing is excellent. The average largemouth bass caught in Kentucky Lake weighs nearly 2 pounds.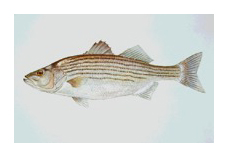 Stripers (Rockfish)
An introduced species, stripers are the river's newest game fish. Their peak season is June through August, when they often school. Look for stripers in shoal humps in the old river channels. Trolling or casting with top water plugs and spoons works well; we've found plastic worms are good around cover. During the hot summer weather, night fishing can be very productive. Use a good light and minnows for bait. This combination attracts the shad minnows, which in turn bring the stripers. Bring heavy tackle if you're serious about stripers (you'll need it for catfish anyway) – they can easily weigh more than 20 pounds.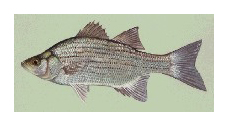 White Bass
A relative of the rockfish and native to the river, white bass – also called stripers – are considerably smaller, averaging little more than a pound. Night fishing under lights seems most productive. In the summer, schooling white bass tear the water to a froth in pursuit of shad minnows and can be seen for miles. Fishing the "jumps" as they're called, can provide fast and furious fishing.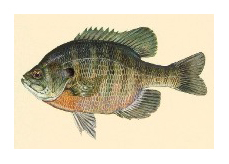 Bluegill
A perennial favorite with kids of all ages, bluegills are most common under the trees along deep banks, in weed beds, stump fields, or brush piles, especially in June, July, and August. If the willow fly is hatching, bluegill usually will be very active. Use small hooks, as their mouths are tiny; worms are the favored bait. Fly fishermen should try small popping bugs; the hard-fighting bluegill may make you forget all about trout.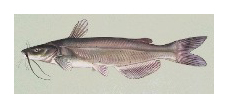 Catfish
Pickwick and Kentucky are the two most productive and famous lakes for their catfish – channel cats, blue cats, flathead cats, and bullheads. Although fairly good year-round, fishing peaks in April, May, and June. Minnows, shad entrails, and worms are the best bait, though we find fresh liver and chicken parts can also bring up a good catch. Gravel bars or shore edges in shallow water are good fishing grounds, and night fishing is very good in the summer. In fact, in the heat of this season, when other species have moved to deep water, catfish are usually easy to catch nearly anywhere.
All of the Tennessee river lakes are bountiful with wide concrete launching ramps, marinas, fishing camps, RV and tent campgrounds and resorts with cottages. Nearly all of them cater primarily to fishermen and are family oriented. As well they should, for where else in this day and age can you drop anchor, toss a line overboard, perhaps baiting with nothing more than a dough ball, and come up with a string of edible fish? If you visit the Tennessee River without your fishing tackle, you'll be forever sorry. Out of state fishing licenses are available at most resorts, marinas and campgrounds.